Call for 2023 Candidates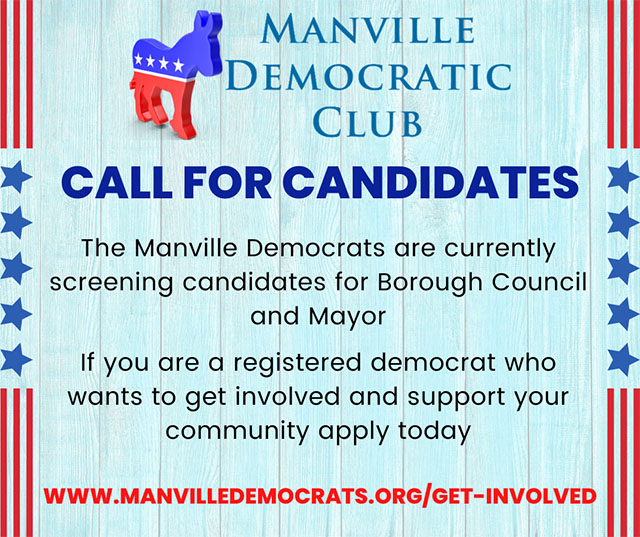 The Manville Democrats are looking for individuals who want to get involved in local politics, in their community, and in their neighborhoods. We are currently screening candidates for Borough Council and Mayor for the 2023 general election. We need you to make a difference!
If you are interested in learning more, check out the link below.
Welcome to the Manville Democratic Club!
The Manville Democrats are changing, and we want you to be involved.
Please read our letter to Democrats in Manville. We also want to hear from you! Take our survey about things that matter to you living in Manville.
And finally, get involved! Be a part of our movement for change here in town.
Manville Democratic Club Calendar
Our calendar will show you current events scheduled, including important meetings for both our club as well as Manville Borough Council.
To get details about an event, click or tap on an event bubble in the calendar below.
Join Our Meetings
Want to get involved? The Manville Democratic Club holds its meetings via Zoom on the last Tuesday of each month at 6:30pm. If you want to be a part of our club, register to attend a future Zoom meeting. We look forward to welcoming new members!