Manville Democratic Club Announces 2021 Candidates
---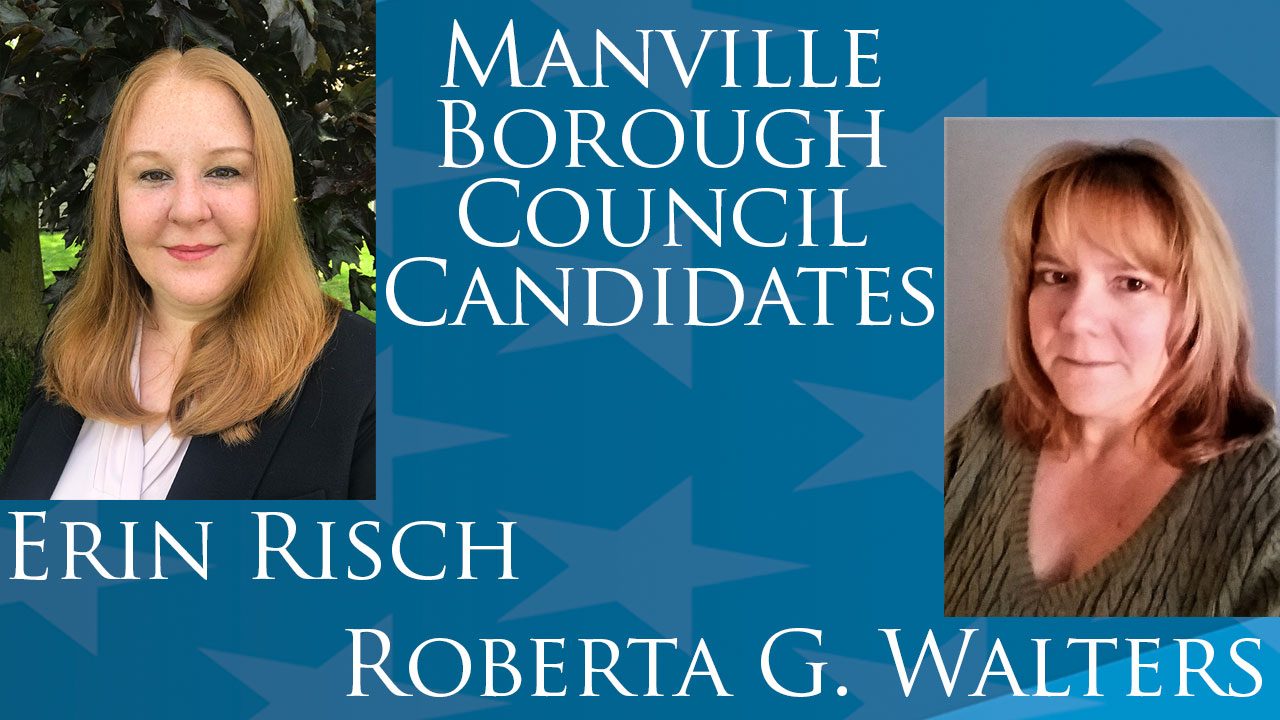 Manville Democratic Club Announces 2021 Candidates
FOR IMMEDIATE RELEASE
Contact Christopher Basista at contact@manvilledemocrats.org
Manville -- The Manville Democratic Club is proud to announce Erin Risch and Roberta G. Walters will be their candidates for the two open Borough Council seats in this year's election. "Erin and Roberta represent the type of leadership that Manville needs. They are energic, passionate and skilled professionals who will use their business and educational knowledge to serve Manville well. I am excited to have these two strong, accomplished women representing our Committee and Manville" said Chairwoman Patricia Zamorski.
Risch and Walters are both active with the Manville Democrats and were recently appointed to positions with the Executive Committee. In addition, they both serve on the Manville Recreation Committee.
Erin Risch is a New Jersey native who moved to Manville in 2016. A graduate of Pennsylvania State University, where she obtained a degree in Supply Chain Management, Erin lived in Union County and Texas until settling back in New Jersey and eventually calling Manville her home.
Erin is employed as an Inventory Optimization Manager and has been with her company for 14 years. Her extensive experience in supply planning, warehouse management, project management, forecasting, and inventory optimization provides her a unique perspective in how to manage large efforts that are dependent on time and financial management. Erin works with a multitude of business partners within the US and Canada to manage short- and long-term inventory strategies for one of the world's largest consumer products companies. She is experienced in building partnerships and driving decision-making that aligns to business strategy.
Erin serves as an appointed county committee person, is the Vice-Chair and Treasurer of the Manville Democrats and serves on the Manville Recreation Committee. In her spare time, she enjoys spoiling her rescue dog Memphis, painting every surface of her house, and listening to audiobooks for a book club. An avid traveler, she is looking forward to planning her next trip.
Roberta G Walters comes from a large family of lifelong Manville Residents. As the daughter of Robert Walters and Loretta Rogalski, she attended and graduated from Sacred Heart School (where her mom Miss Loretta was a beloved teacher) and Manville High School. Roberta received her Bachelor of Science degree in Physical Education and Physiology from East Stroudsburg University.
During her 27-year tenure with one of the country's largest financial institutions, she has held a variety of positions including Project Manager, where she led large scale, multi-million-dollar initiatives. Currently she is a Quality Assurance Manager and leads a team of 20+ professionals. Her extensive experience has allowed her to develop the skills and knowledge critical for communication, managing risk, strategizing and influencing change.
Roberta serves as an elected county committee person and is the Corresponding Secretary for the Manville Democrats. She is a member of the Somerset County LGBTQ+ Advisory Board, President of the Somerset County Federation of Democratic Women and Secretary for the NJ Federation of Democratic Women. Along with Erin, Roberta also serves on the Manville Recreation Committee.
An avid animal lover, Roberta has two rescue dogs and is a certified therapy dog handler. In pre-COVID times, you could find Roberta and her therapy dog Bella visiting schools and libraries for read to the dog and other programs.
All registered Democrats are encouraged to vote in the Primary on Tuesday June 8th. This year, the Primary will be back to in-person voting. Visit our website www.manvilledemocrats.org to learn more about our candidates, the Manville Democrats and to get involved.